Legendary jewelry shop design display cabinet
Founded in 1895 in Austria, SWAROVSKI is a magical world of sparkling jewelry for a timeless style. Now M2 Display will introduce the magical display art of SWAROVSKI for you!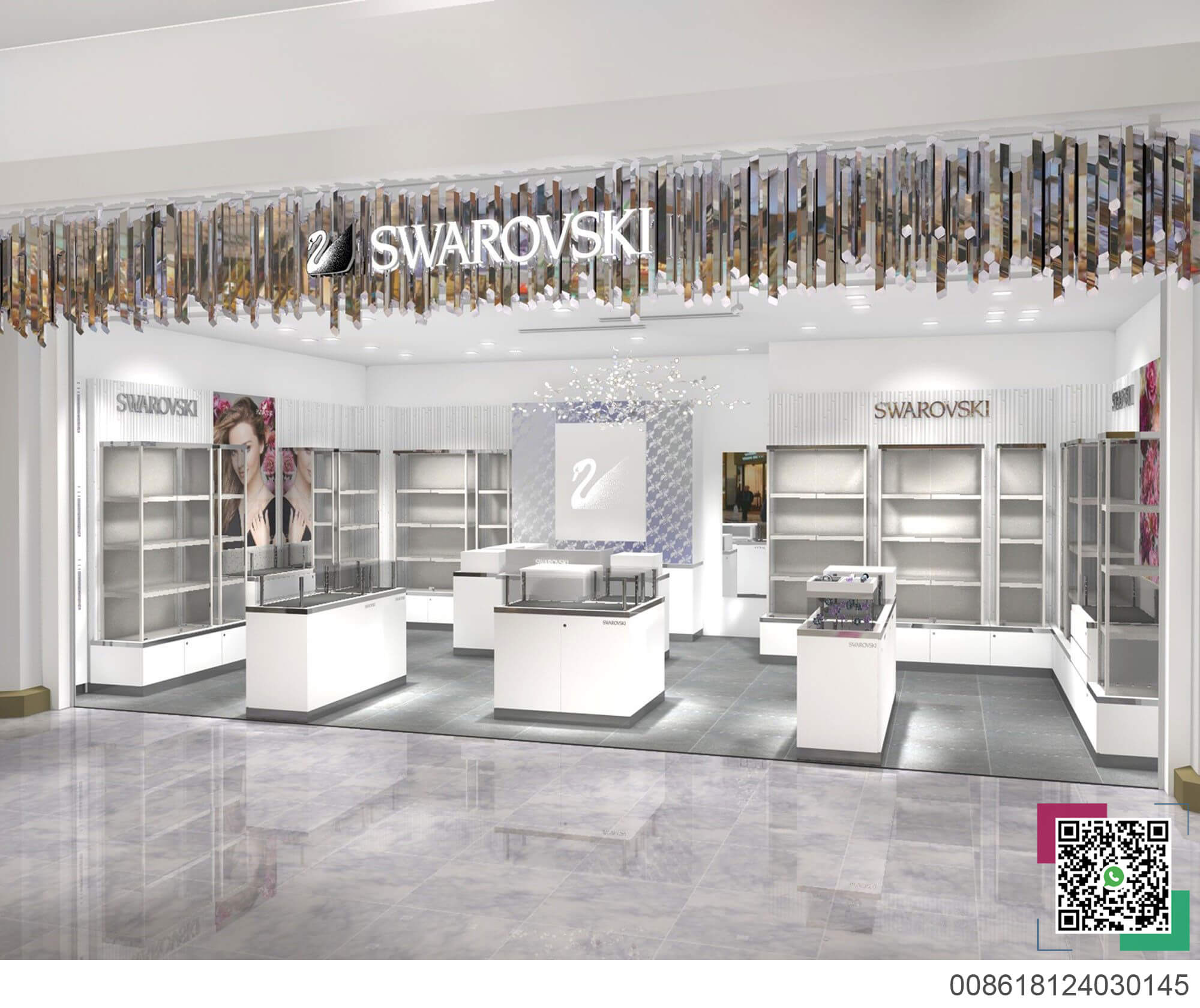 Swarovski jewelry shop design is very distinctive. It has a feeling of being immersive, simple and elegant without losing the atmosphere by the shopfront luminous logo in the stainless steel column with the interior decoration design. If you also wanna such logo to brand your retail shop, please find your favorite LED Channel letters here.
First of all, we can see that white is the basic color of the store. It is made of white paint, and the display cabinets are made of brushed stainless steel. They are even illuminated with warm light, like sparkling crystals.
The display cabinets are simple and neatly placed, and the products are displayed at a glance. Customers can easily choose their favorite products from the display cabinets.

There are many models wearing necklaces on the back wall of the store, so when people come in, they can clearly see the style. In addition, there are two light boxes for advertising, and the light boxes are fabric. Therefore, when you have some new products, please replace the poster.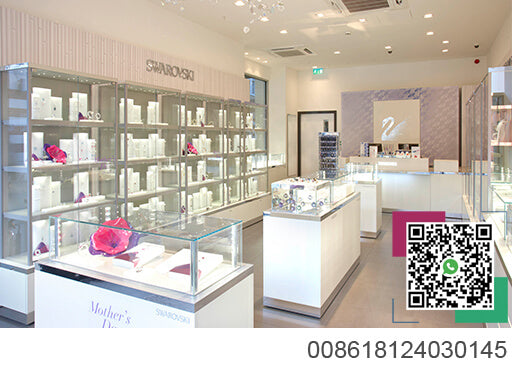 The top of the store's display cabinet is made of wavy panels, and the artistic sense is vividly displayed.
The transparent display cabinet is made of ultra-clear glass, LED jewelry spotlights, the light shining on the jewelry is particularly eye-catching, do you like this lamp? Please choose your favorite LED jewelry spotlight here.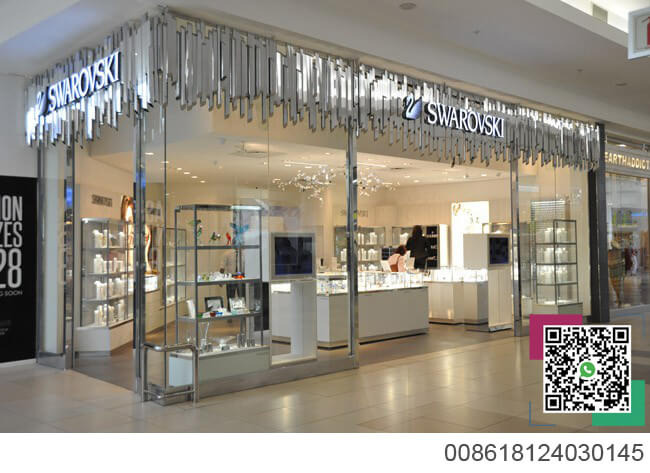 Swarovski's low-key and gorgeous decoration style makes the whole store cleaner and more beautiful. Do you like this jewelry shop design?
When you need this customized store or kiosk design, please select M2 Limited. We can design and produce according to your own ideas. Our company is good at designing and producing custom jewelry store display cabinets. Because we have many years of experience in designing and customizing display cabinets. Our main markets are the United Kingdom, the United States, France, Spain, Kenya, Africa, etc. We believe that you can get a suitable store from us.
If you are interested in jewelry shop design, please contact us here. We are online and ready to answer your questions. Thank you for reading.
Contact Information
Name: Vicki

WhatsApp & Phone: 

008618124030145

Email: Vicki@m2display.com