Archi.Mosphere Takes Inspiration From Hwaseong Fortress Near Seoul for Eyewear Retail Locale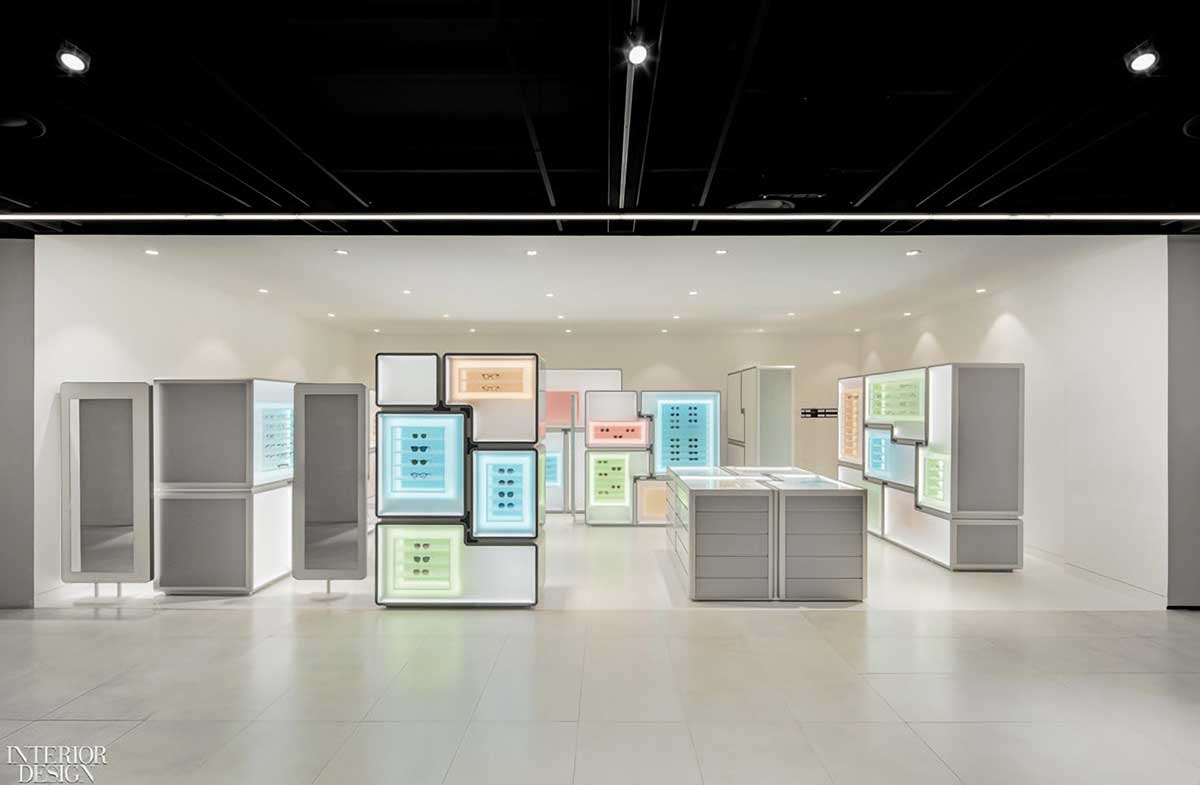 Modular display cases define the layout of Papyrus's newest store outside of Seoul, South Korea. Photography by Yongjoon Choi.
Located about an hour south of Seoul, South Korea, the city of Suwon is home to the Hwaseong Fortress. A landmark in the area, the fortress has been deemed a UNESCO world heritage site, recognizable by the intricate stonework that makes up its gates, walls, and palaces. Yeon-Ju Choi, an interior designer at Atelier Archi.Mosphere, took inspiration from the traditional stone-laying methods used in the fortress for the firm's latest collaboration with Korean eyewear brand, Papyrus.
The colored display cases ensure customers' eyes are drawn to the glasses. Photography by Yongjoon Choi.
Situated in Suwon's Galleria Department Store, Choi opted for a modular layout for Papyrus's latest shop. As the sixth retail space designed by Archi.Mosphere for Papyrus, the firm's familiarity with the client and its clientele allowed Choi to optimize the aesthetics with custom wall-systems. Made from an aluminum frame with pastel colored acrylic inserts, the dual display and storage cases foster a contemporary ambiance.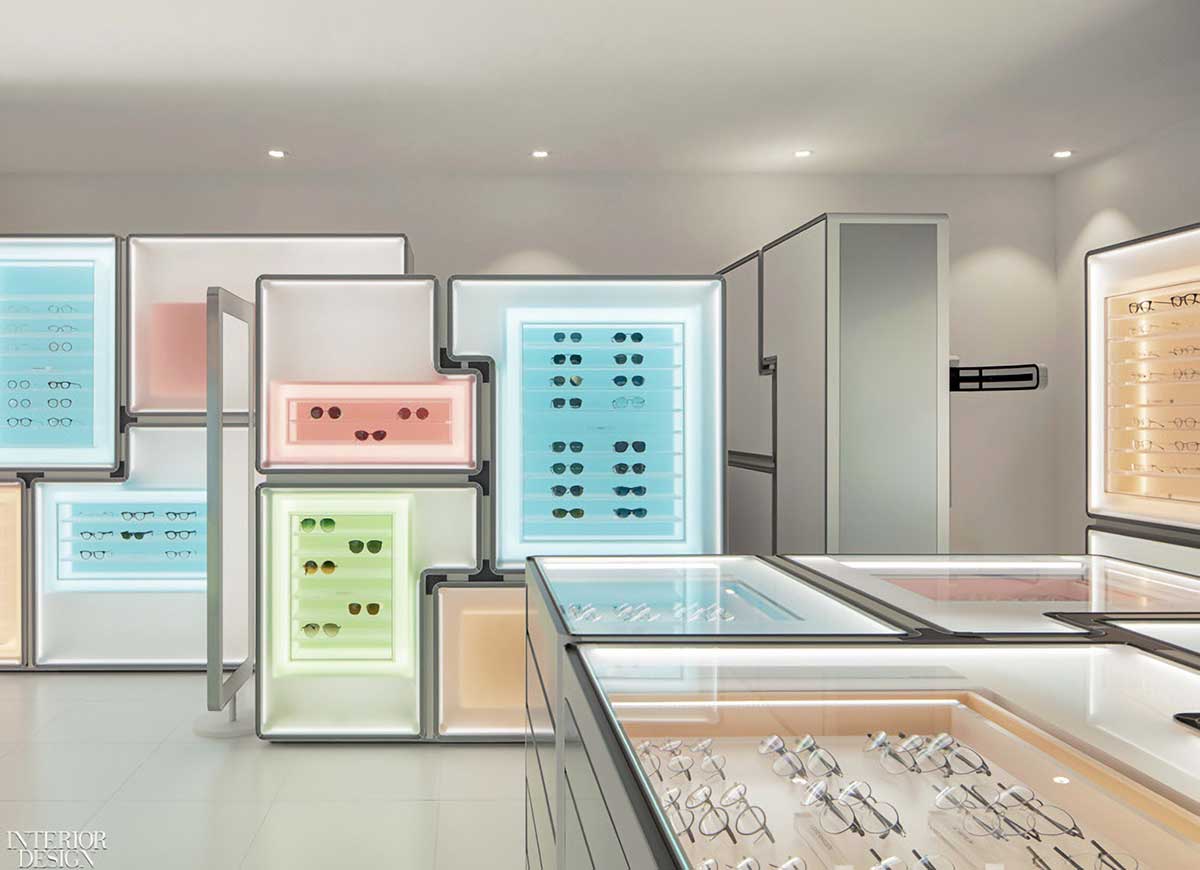 The stacking of different shapes is akin to the arrangement of stones in the Hwaseong Fortress. Photography by Yongjoon Choi.
Choi's open-concept floor plan enables eye examinations, styling sessions, and product adjustments to happen simultaneously in the 270-square-foot space. Backlighting from within the display cases and ceiling lights reflect off of the white painted aluminum, creating a bright and uplifting atmosphere. Reminiscent of the Hwaseong Fortress, the multi-use space invites customers to peruse a wide selection of eyewear until they find the perfect pair.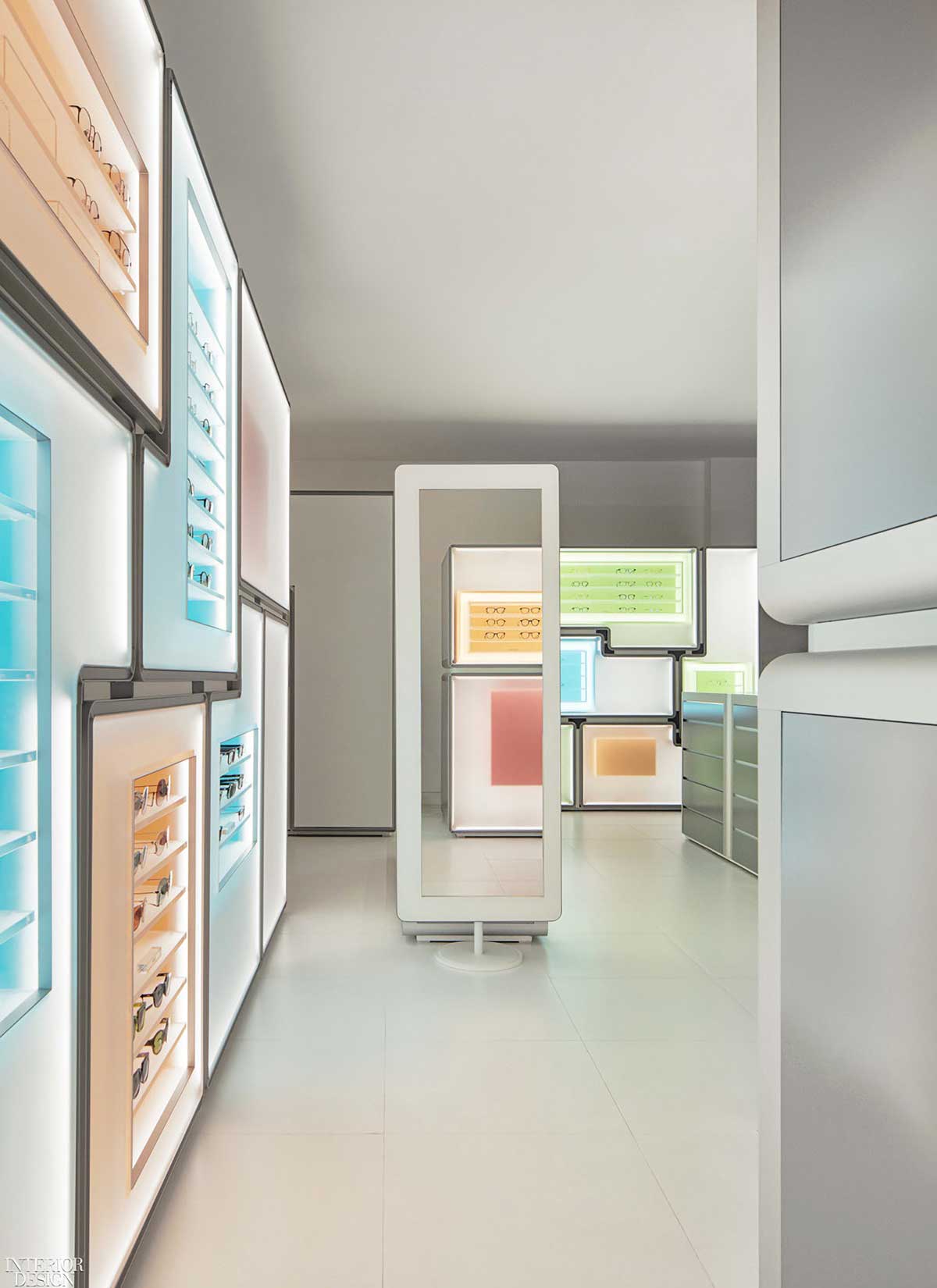 Mirrors for trying on glasses are positioned away from the displays. Photography by Yongjoon Choi.
Source: INTERIOR DESIGN