8 Steps to Choose the Right Reception Desk
The reception is one of the first things visitors see, so it is extremely important to give the visitor a correct first impression.
According to research by psychologists, the first impression occupies a dominant position in the brain. It takes dozens or even hundreds of times to change people's first impression, so a perfect reception area is particularly important.
The reception desk is the front window of your business, so you need to make sure that the area is both beautiful and functional. When looking for an ideal reception desk, practical design and space planning are essential. This issue provides some notes on reception desks.
1.Confirm available space
Work out how much space you have. Everyone needs enough personal working space to maintain a comfortable and good working condition, not only to avoid your staff working in a narrow area, but also to prevent visitors from colliding with each other due to the narrow area, which will make them feel Anxious, nervous.
Please note that necessary accessories such as chairs and their moving space are included in it, so leave more space to avoid crowding.
A tip to make sure your reception area has enough open space before you purchase; take a normal office chair, mark the size of the reception desk, and place the chair behind it. When you sit in the area yourself you can judge whether or not it would make you feel welcome if you were waiting to meet with someone in a similar space once the furniture is in place.
2.Choose the right size
Two selection methods are provided: Quickly and Accurately. The content is only for reminders, and the specific selection should be based on actual needs.
Quickly:
A quick rule of thumb is to choose a front desk size proportional to your reception area. If you have a small space, get a small desk. If you have a large space, get a large desk.
Accurately:
Measure and sketch out your space carefully.
Be sure to include any architectural elements that may get in the way, such as windows, inward swinging doors, built-in work spaces, etc.
Calculate how much room you will need to leave on all sides for staff and clients to move about freely.
Add at least an extra 60 inches or more to allow the receptionist to turn and move behind the desk, especially if there are some lockers behind.
Leave 3 feet or more between the reception desk and any surrounding walls or furnishings for traffic flow.
A single-person reception desk (48+ inches) works best in small areas.
A two-person reception desk (71-73 inches) will be more appropriate in a mid-size reception area.
In a large space, such as a bank or office tower lobby, a very wide desk (8 feet or wider) will balance out the expanse of the area.
Typically, there are three heights for reception desks between 28 inches to 34 inches. The choice will largely depend on the height of a person using it.
It's all about creating balance.
The size of the reception desk also depends on how many receptionists you plan to hire, and vice versa. Depending on how busy your reception is, your receptionist needs to have enough space to do all the work.
You can also try other options when deciding on the length and size of the reception desk. For example, you can use an L-shaped table, which may be longer on one side than the other. Curved and U-shaped reception desks are also popular solutions among some designers.
3.Pick the right placement
Which direction do you need to face?
The receptionist should always face the direction the guest comes in. That means you should orient the front of your reception desk to face the door of your reception area. If your waiting area has multiple entrances, you may want to choose a desk that wraps around in a U-shape, rather than a rectangular desk. Or, you may need more than one desk.
Where do you need to leave space for foot traffic?
Once a person has checked in with the receptionist, where do they need to pass to proceed to the conference room, office or another area in your building? If a door separates other parts of your office, make sure you allow plenty of clearance for entering and exiting. If the rest of the office is open to the reception area, you may want to include space on both sides of the desk for foot traffic.
Where will the desk be most visible?
You should also consider the sight lines as a person walks into your business. If they've never been there before, they will be looking for your reception desk. To accommodate guests and make them feel comfortable, your reception desk should be highly visible. If a person has to round a corner to get to reception, make sure you install signage to direct them. You may need a desk at the entrance and another in a waiting area if those are in separate locations.
4.What is the Best Shape For a Reception Desk?
Curved Reception Desk:
Saves space in small to mid-size areas. Choosing a curved reception desk is a great choice if you are looking for a contemporary design and like modern office furniture in your corporate space. Each curved reception desk comes with a range of colour and size options to enable you to align it with your space and your business style.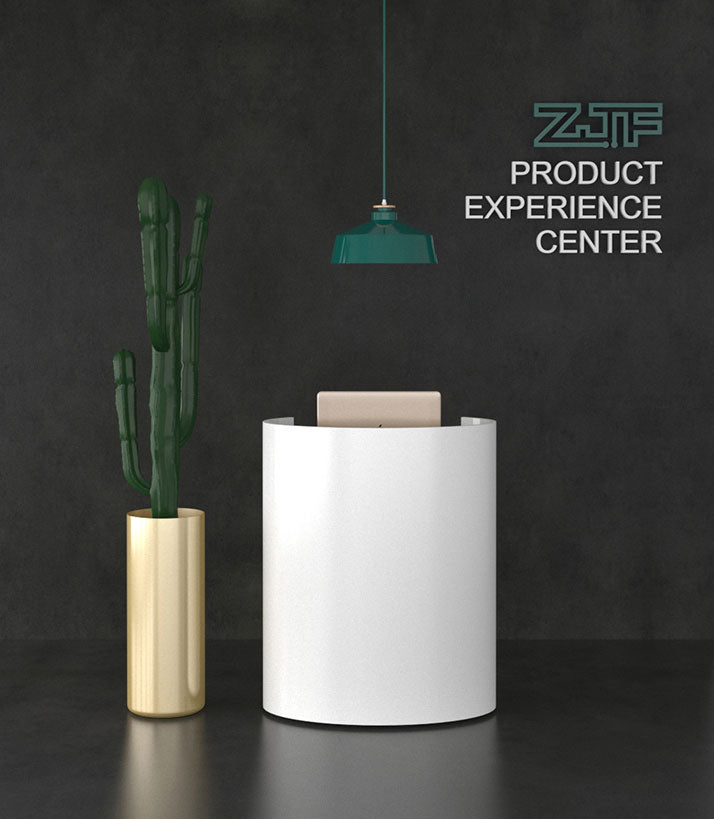 U-shaped Reception Desk:
U-shaped reception desks can have a curve to them or have straight edges, and they can often be used by more than one receptionist at a time in a large waiting room.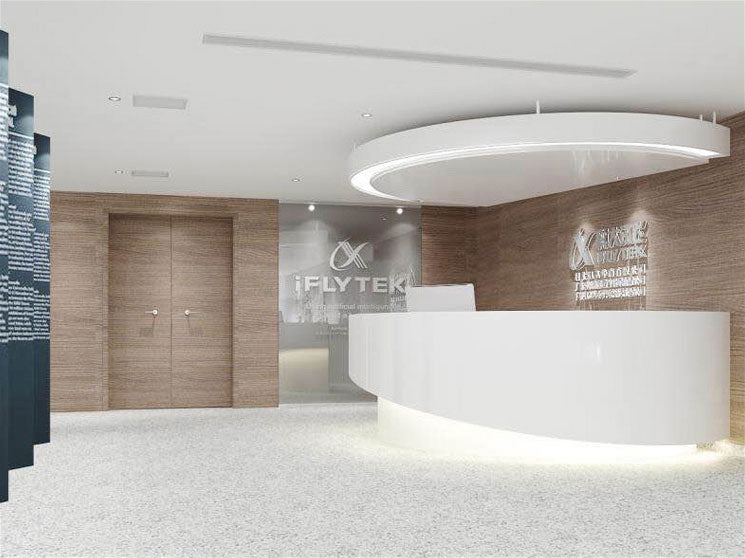 L-shaped Reception Desk:
Include a main desk and a return that provide the receptionist with additional space to work. It allows the receptionist to easily rotate from one work surface to another. Most L-shaped desks are small enough that they are best used by a single receptionist at a time, though they do come in a range of sizes to suit different business needs.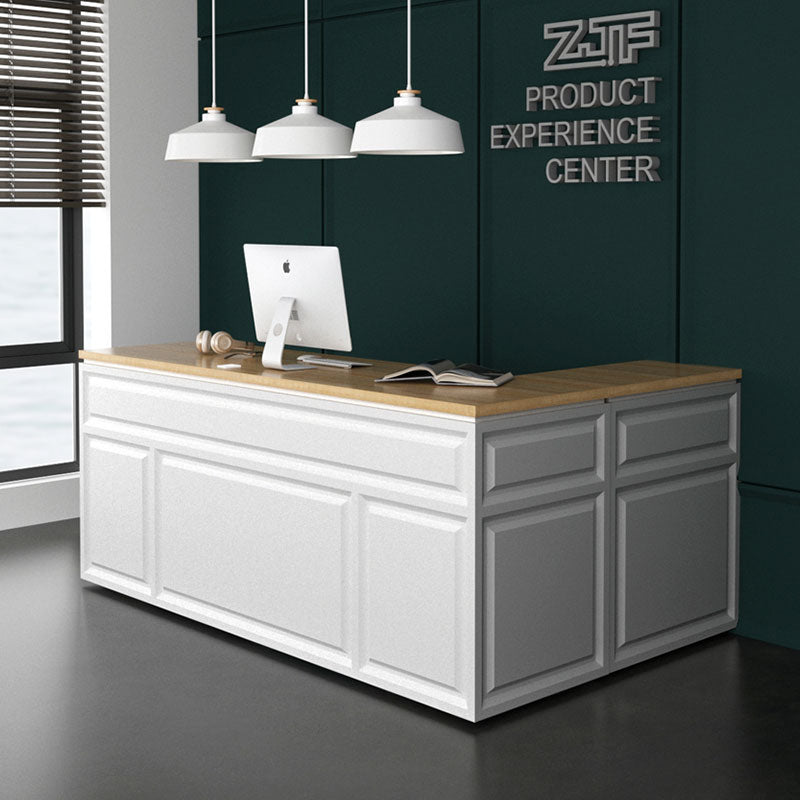 Round Reception Desk:
If you are keen to create an open plan reception space, then choosing a round reception desk will put your team at the heart of the room and give them access to visitors in a 360-degree way. This style of reception desk is modern and looks sleek in a larger store/office space. However, if you are looking for a small reception desk, then this won't be the answer as round reception desks need a lot of space to look their best!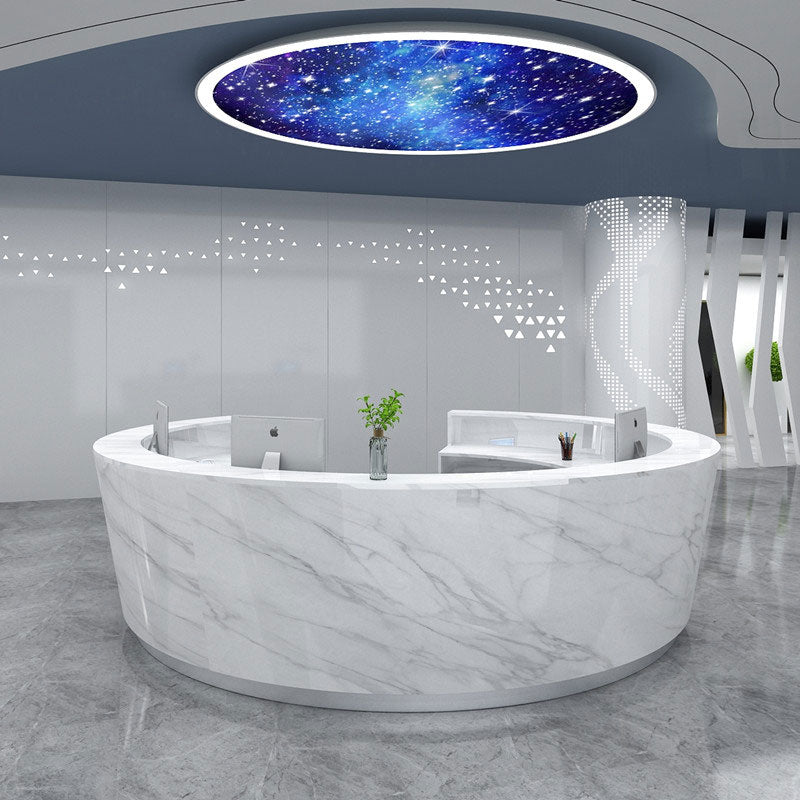 Rectangular reception desk
Rectangular reception desk is the most common shape. It has a very long history. Therefore, the rectangle is safe and classic. It usually has three rectangular sides and an open back. The rectangular reception desk uses different materials and finishes to present a variety of styles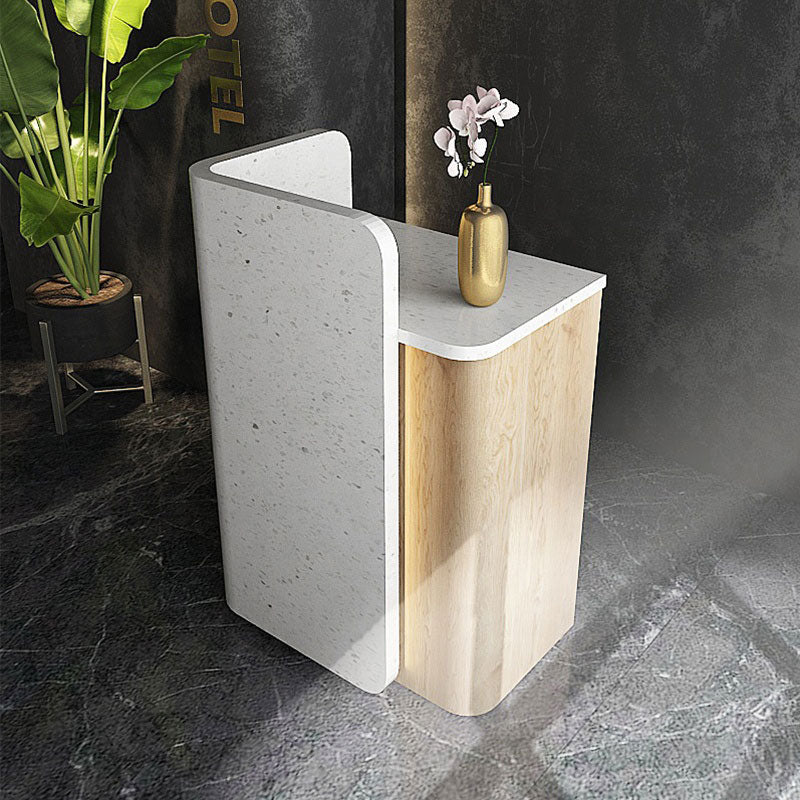 ADA Reception Desk:
Are ADA compliant to accommodate individuals in wheelchairs. Most ADA desks feature a standard height transaction counter as well as an attached ADA height surface that measures about 33″ high.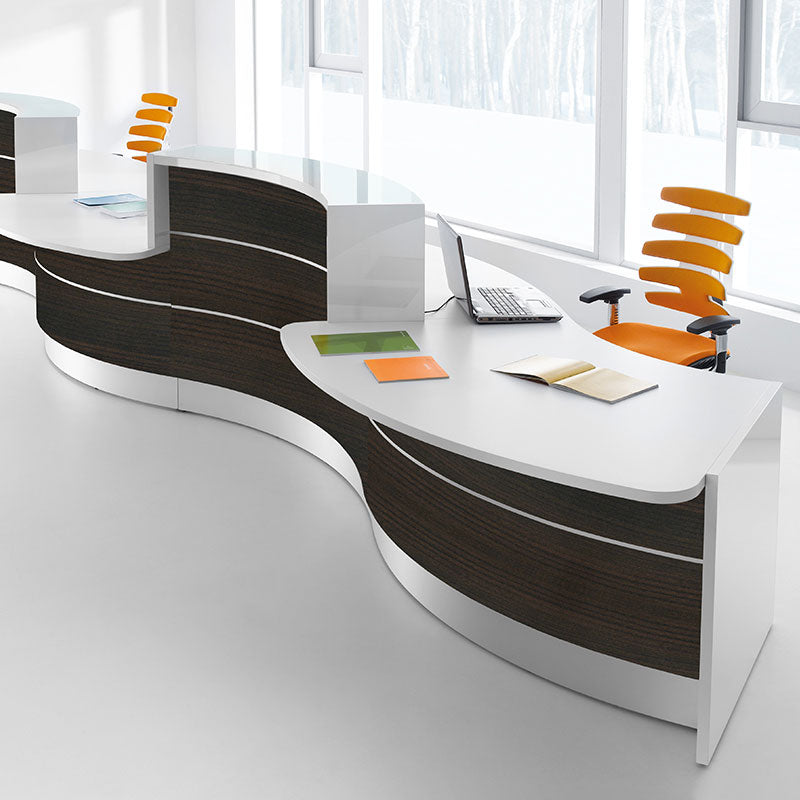 5.Choosing the Right Style Reception Desk
When it comes to reception area design tips, there's no end to the possibilities. You can opt for whatever style you think best complements your brand, but some tend to be more popular than others, thanks to their timelessness. Some common reception area styles are:
Minimalist:
As one of the most popular styles, the minimalist design doesn't have to mean, cold and sterile. Minimalism just means your space is using only the furniture necessary, without any frills, making it more open and neat. There are two types of minimalist design you can choose from, depending on the aesthetic and style of your company:
Modern: Usually, when a design is described as "modern," it's referring to the mid-century modern designs of the 1950s and 1960s. Think of the offices in "Mad Men," which feature a lot of common, earthy elements like wood.
Contemporary: Contemporary design tends to embrace the now and the future, with glass and metals being the dominant material.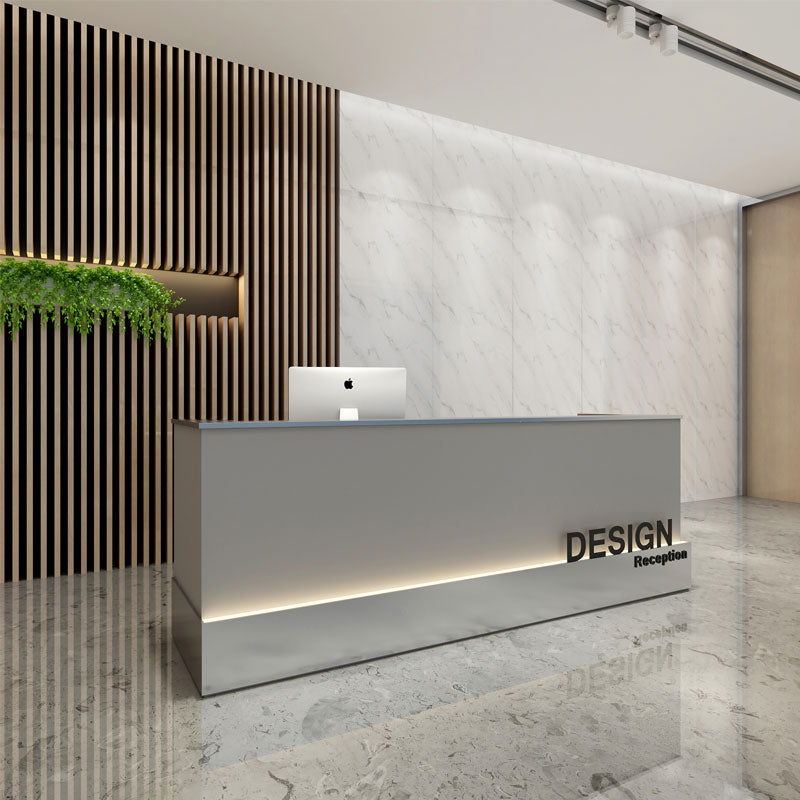 Eclectic:
This is a style that can be very difficult to pull off, but, if executed correctly, can be breathtaking. Contrary to popular belief, an eclectic style doesn't just mean bringing together various pieces of furniture and dumping them all together, hoping for the best. Eclectic design requires a very calculated mix of decoration from various styles and eras, and they all need to be anchored by commonalities.
Though it may not look it, eclectic design is very intentional, but the resulting creative atmosphere will make anyone who walks into your reception room feel invigorated and like they're being welcomed into the cool-kids' club.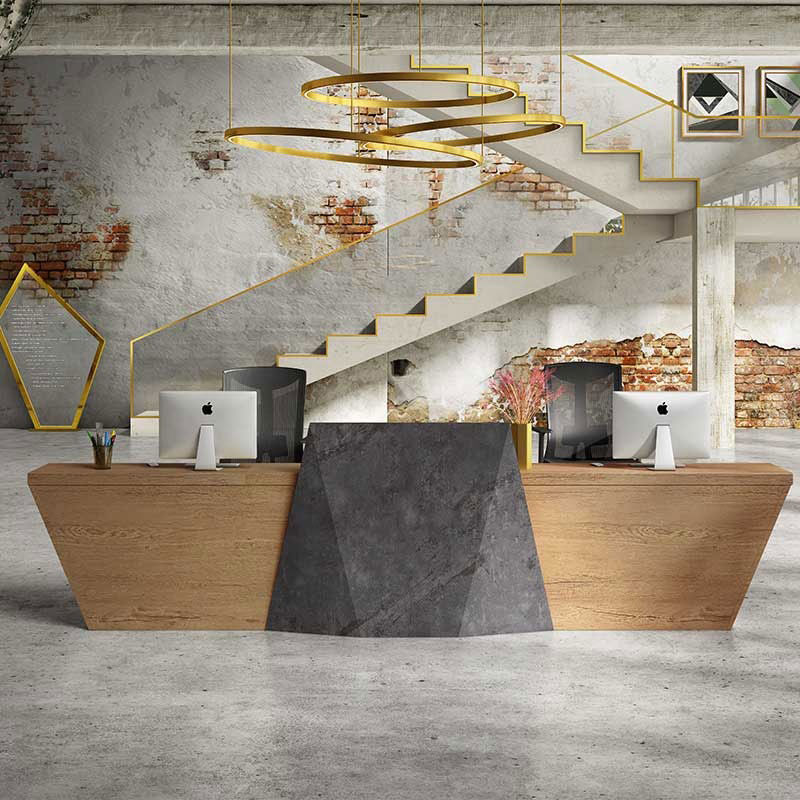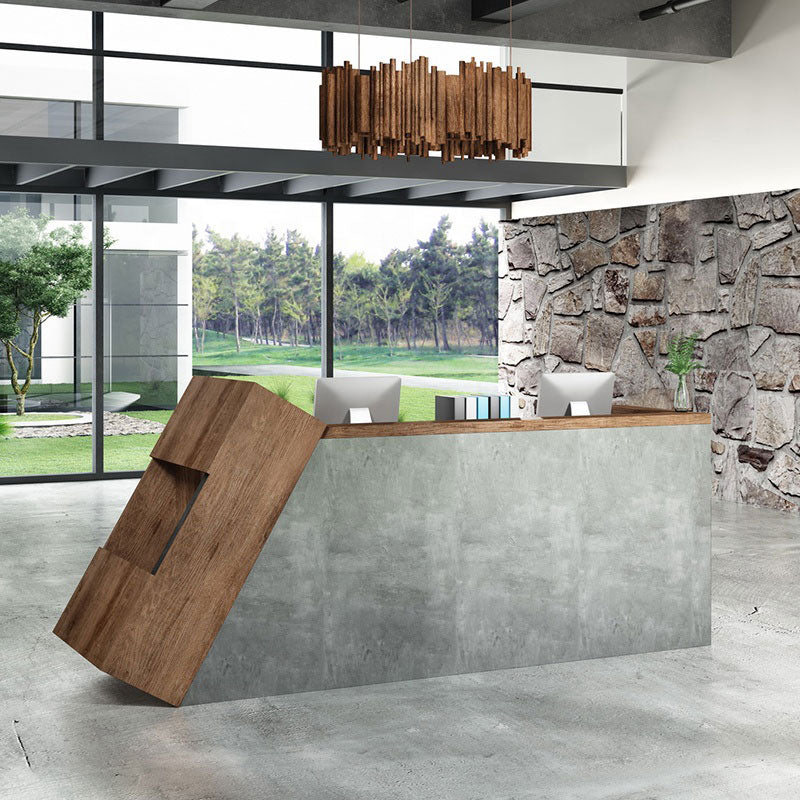 Glamorous:
As its name suggests, reception areas decorated in a glamorous style aim to impress. It's best utilized by luxury brands, but it can be applied to any industry as long as you know who you want to impress.
Glamorous styles don't require you to turn your reception area into a black-tie ball or a Gatsby party, though. Something as simple as dramatic accents or high-quality furniture can show visitors your brand is confident, impressive and welcoming all at the same time.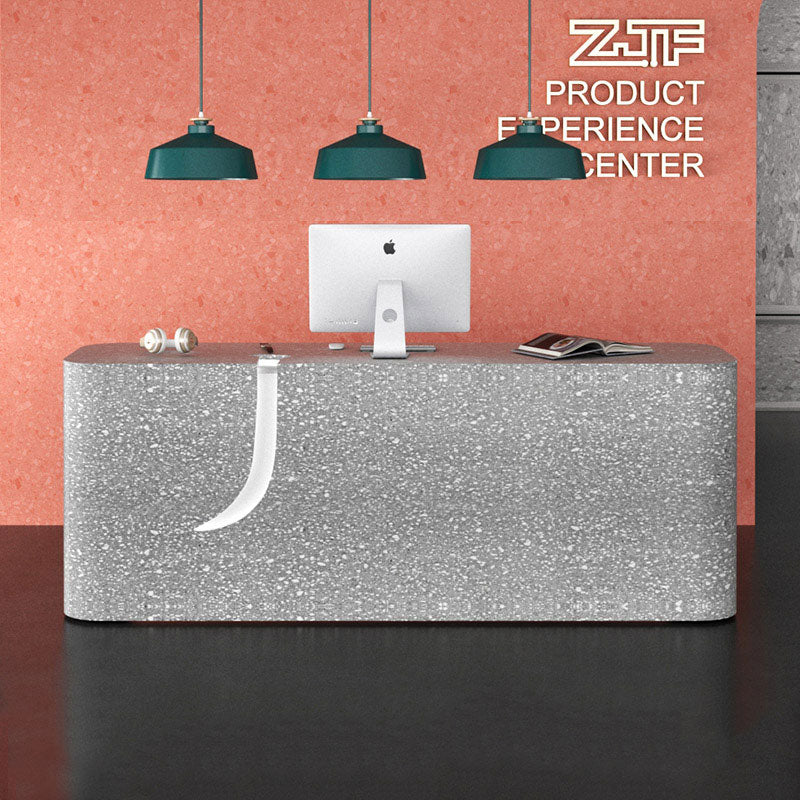 Energetic:
Similar to the eclectic and minimalist style, an energetic reception area features bright pops of color and clean lines. The goal is to express your brand as modern and hip, as well as hard-working and progressive.
Bold colors, bright lights and funky furniture all give the impression of a company that knows how to work hard and play hard. For even more energy, try adding inspirational quotes and other similar decorations to emphasize your brand's core values.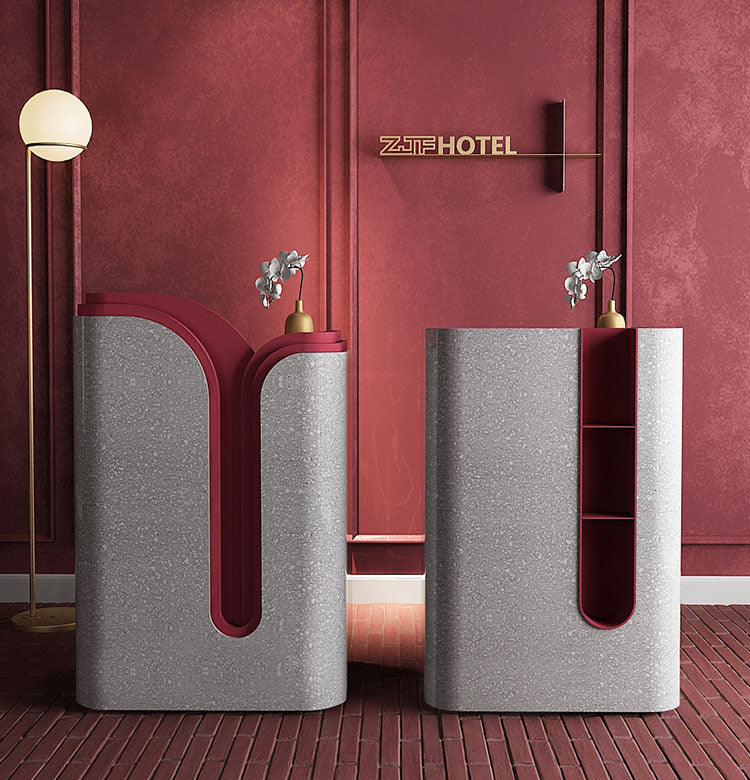 Your reception desk design must therefore convey your business's values in a professional and courteous manner. Whether it's service, transparency, commitment, or diversity, both your desk and your receptionist must create an experience for your visitors that they'll resonate with.
Think also about how your desk will fit in with the decor of the space around and the nature of business. Salons and spas, for example, may prefer natural wood tones to match their soft lighting.
Hotels and financial office lobbies, on the other hand, normally go for something more opulent like granite or marble. Such a reception desk may not, however, work for a techie startup or a security firm.
6.What functions needed for a reception desk?
Function:
You must make sure your reception desk is functional, both for receptionists and for clients. Various businesses use reception desks differently, so it's crucial to consider how you need your reception desk to work. Think about the work receptionists need to do at the desk and how clients will interact with it. Here are a few functional aspects to consider.
Storage:
On the receptionist's side of the desk, there should be some form of storage space, such as shelves and drawers with lock. These can allow the receptionist to store personal items, office supplies and files out of sight. Easy access at the reception desk is especially critical for some industries where receptionists need to pull a client's or patient's file at check-in. Ensure you choose a desk with the appropriate amount of storage.
Countertop space:
The ideal reception desk should afford plenty of surface area for both receptionists and visitors. If you plan to display signage, advertisements or décor pieces on your reception desk, allow plenty of room for these items, with enough remaining space for interactions between guests and the receptionist.
Ergonomics:
You should also consider how comfortable the desk will be for receptionists. A central part of this is the office chairs you purchase, but the desk itself can impact a person's comfort. Consider how receptionists and guests will need to move around the desk, and ensure you pick one that offers the right height, shape and layout to accommodate that.
Equipment & Privacy:
Will it need specific equipment such as PCs, printers, fax machines, security equipment?
Computer monitors: Are you happy for them to be visible from the visitor side or should they be concealed behind a raised counter? If you want them to be hidden from the visitor, you'll need to know their physical size, not just their screen size. You may decide that in view of the possible expenditure involved in designing a reception desk to cater for existing equipment, it may be prudent to consider budgeting for a new monitor if it then opens up the possibility of a less expensive standard product reception counter.
Will it need to make provision for Wheelchair users?(Use ADA reception desk)
Bear in mind a recess on the visitor side can sometimes reduce the knee space for the staff manning the desk.
Will visitors need to sign in and therefore need a high-level counter to lean on? Maybe a more informal, open feel is required with a single low-level surface.
Who will be using it from the visitor side? Will it be treated with respect by all who come into contact with it, or must it be able to withstand some abuse? Maybe a tough, metallic finish plinth would help to prolong the counter's working life.
You can also ask the receptionist what functions needed and check if anything missed. After all, the best for you is the best.
Of course, you can refer to a standard desk for some basic functions, such as:
Behind Desk:
Built-in drawers, cubbies, and storage cabinets.
Pre-drilled holes for cords and wires.
Power outlets at desk level for computers and office equipment.
Large desktop workspace.
Pull-out keyboard drawers.
Monitor platform.
Desk Front:
Customer-facing receding toe-kick to avoid scuff and dents from shoes and kicking.
Wider countertop overhang in the front for use with stools or chairs.
Flat front for business signage or customer greeting plaque.
Modular coffee bar unit for reception desk suites.
Decorative metal or glass accents.
Under-counter lighting on the desk front.
7.What are the Best Reception Desk Materials?
The busy reception area will see a constant stream of activity. As such, your desk will incur wear and tear from the rigors of daily exposure. The material you choose for your reception desk will be dictated mostly by desired durability and budget. Below we've listed the common materials used to make reception desks
Laminate:
Although laminate can be made to look like it has real wood grains, it is actually made from some form of particle board with or without a wood grain print. Desks that have a laminate surface construction are ideal for high traffic offices/ Stores because laminate does not scratch or dent easily and is generally easier to maintain and keep clean. Laminate is also an affordable option, making it a great choice for businesses on a tight budget.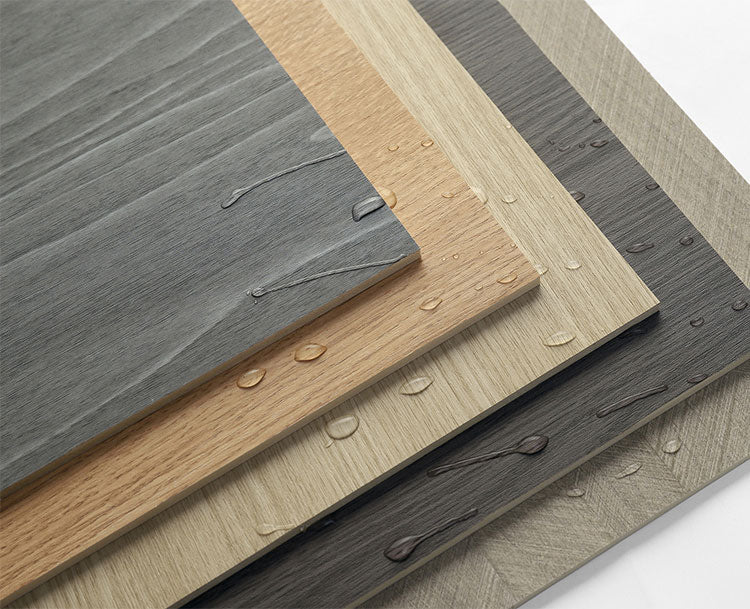 Wood Veneer:
Wood veneer is a good in-between for those who want that real wood look without paying the high cost of solid wood furniture. Veneer desks have a similar base as laminate furniture (such as particleboard) but feature a thin layer of real wood on top of that. Veneer desks can be trickier to clean and care for than laminate, but the veneer layer provides a much richer look that many offices prefer.
Styles include traditional, transitional, modern, and contemporary.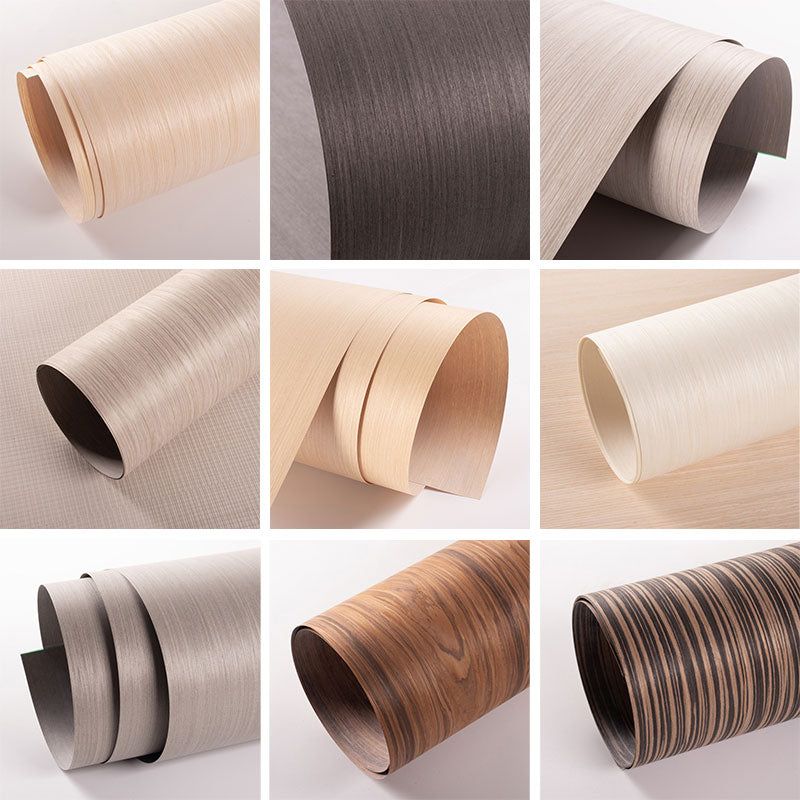 Solid Wood:
Long-lasting and most costly of all the materials. Prone to scratching, denting, and scuffing. Most popular options for luxury venues such as hotels, banks, and law firms. Lends itself towards all decoration styles.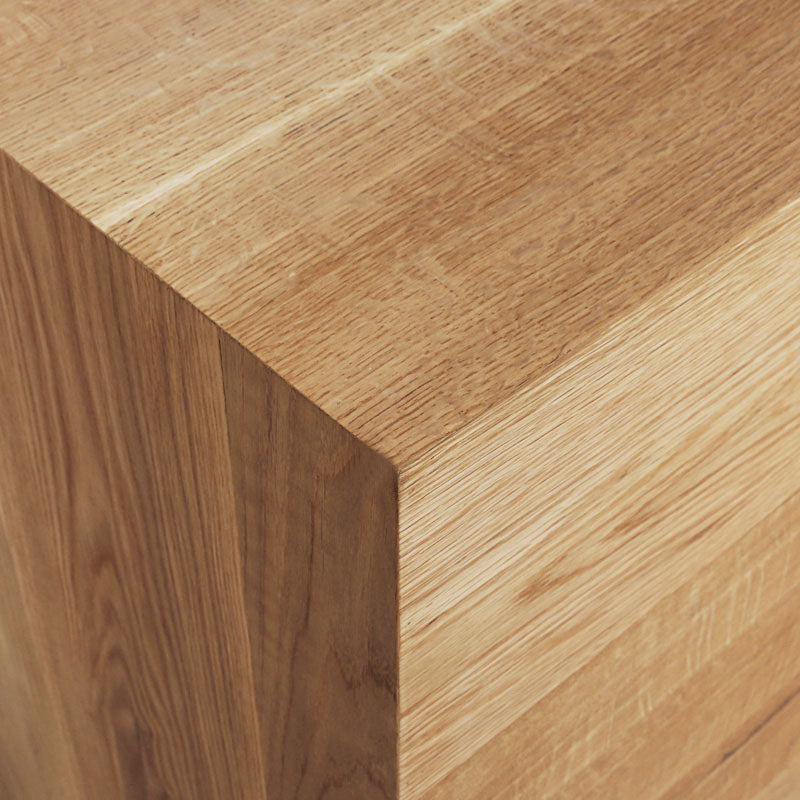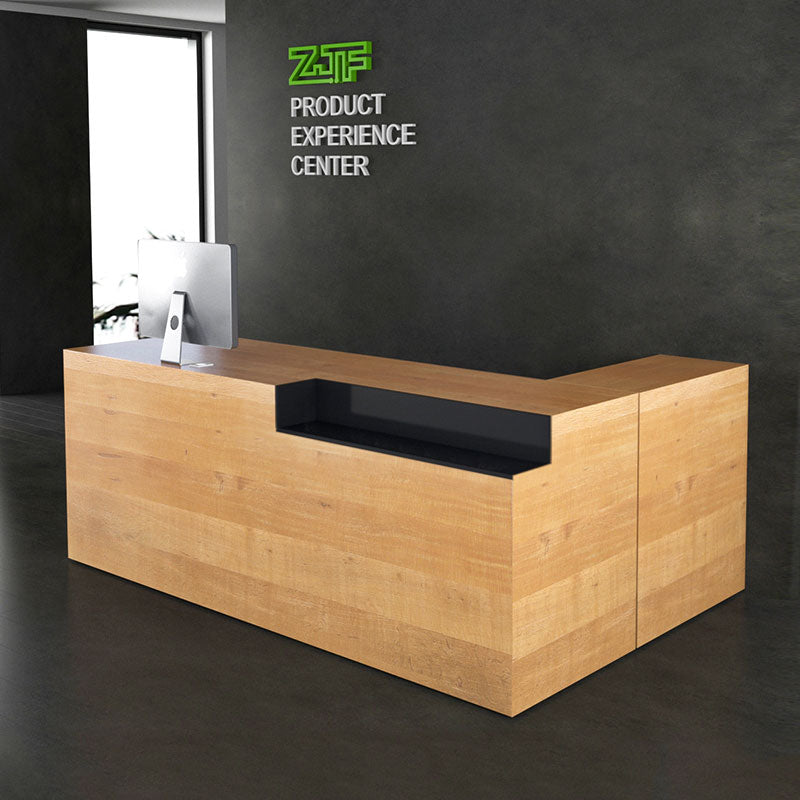 All-Metal Desk:
Although metal desks are available in all-metal varieties, most come with a wood or glass top and just have metal framework for stability and industrial aesthetics. Metal desks are usually made of steel, though the gauge may vary and the desk may come in either a chrome or powder-coated finish. Works nicely in industrial and minimalist offices. Can be combined with frosted or clear glass.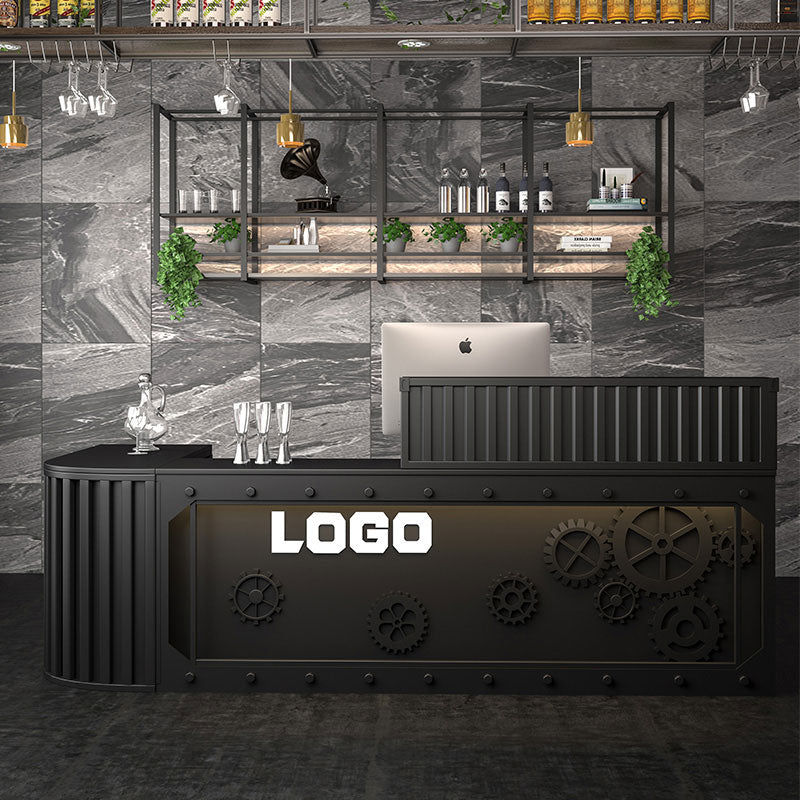 Marble/Stone:
Marble is another classic alternative. Make the reception desk look elegant and magnificent. It can be used in combination with wood veneer and has high durability, making your desk look impressive.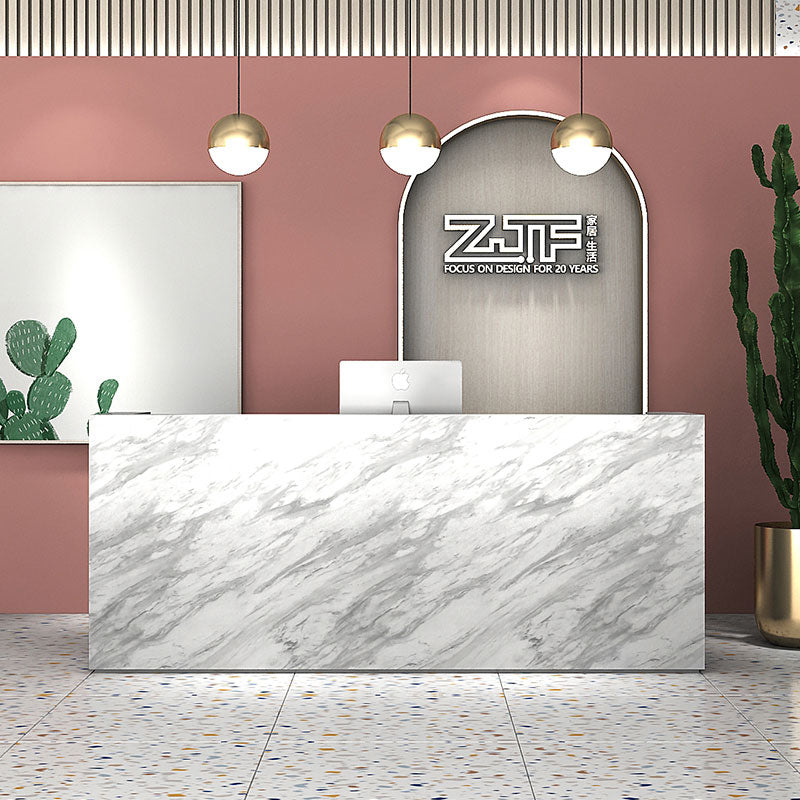 Glass:
Durable, moderately priced, easy to maintain. In the case of glass desks, the work surface is usually made of tempered glass that is thick to prevent shattering. This is usually complemented by metal framework. Glass is easy to clean, but it does show fingerprints easily. If you don't want a full glass top, there are wood top options with a glass inlay available. Frosted glass provides privacy for the reception suite as clear glass would not. Glass is used for the countertop section of the desk with other components constructed from metal, veneer, laminate, or wood. Glass is contemporary or industrial in style.
8.Keep An Eye On Cost
A good understanding of budget and timescale is fundamental to ensuring any project gets off to a smooth start. It's often difficult to establish clearly what has been set aside for the reception desk, particularly when it's just one element of a reception area project, but being clear on this factor at the outset is crucial.
Deciding on a budget prior to shopping will help you to make good decisions both stylistically as well as financially. Plus, there are so many great options out there that you should be able to get the result you want without spending more than the business can afford.
To give you some idea:
Curved and conical desks are generally more expensive than straight desks, due to the amount of forming work that goes into their construction. For this reason, they also take longer to produce. Straight desks generally cost less, but may not offer the visual appeal you are trying to create
Real wood veneer is more expensive than laminate, takes longer to apply, requires specialist skills, and must go through a rigorous polishing process, hence veneer costs more than laminate. Of course, it also looks more expensive too.
Where budget and time allow, some projects will naturally call for a one-off bespoke solution. However, if there is less to spend and the desk is needed quickly, you may want to explore the option of a standard product. There are many ranges available on the market today that will answer a host of design and budget requirements.
Finding modern office furniture that is unique and reflects your business personality is a great idea but be careful that you don't end up overcharged for bespoke furniture when there are plenty of affordable customization options that will do the same job.
From color options to specific materials, you can sell your brand by providing a consistent look or feel, creating a space that reflects who you are as a business that can be scaled to grow with your business in a way that suits your goals.
Finally, The desk is one of the main considerations in the reception area, so make sure you take all of the important factors into account and choose the right one. However, remember that the desk is only one part of the reception area, and the other elements including the plants, lights, wall art, and colors will all play a role in the overall look and feel of the room. So make sure everything works in harmony to create the perfect impression on visitors.
If you are looking for the ideal reception desk for your store or offices, M2 Retail can help you. 
We not only provide an high-quality reception desk with nice design, but we can also customize your own reception desk for you.
Contact us now to learn more.